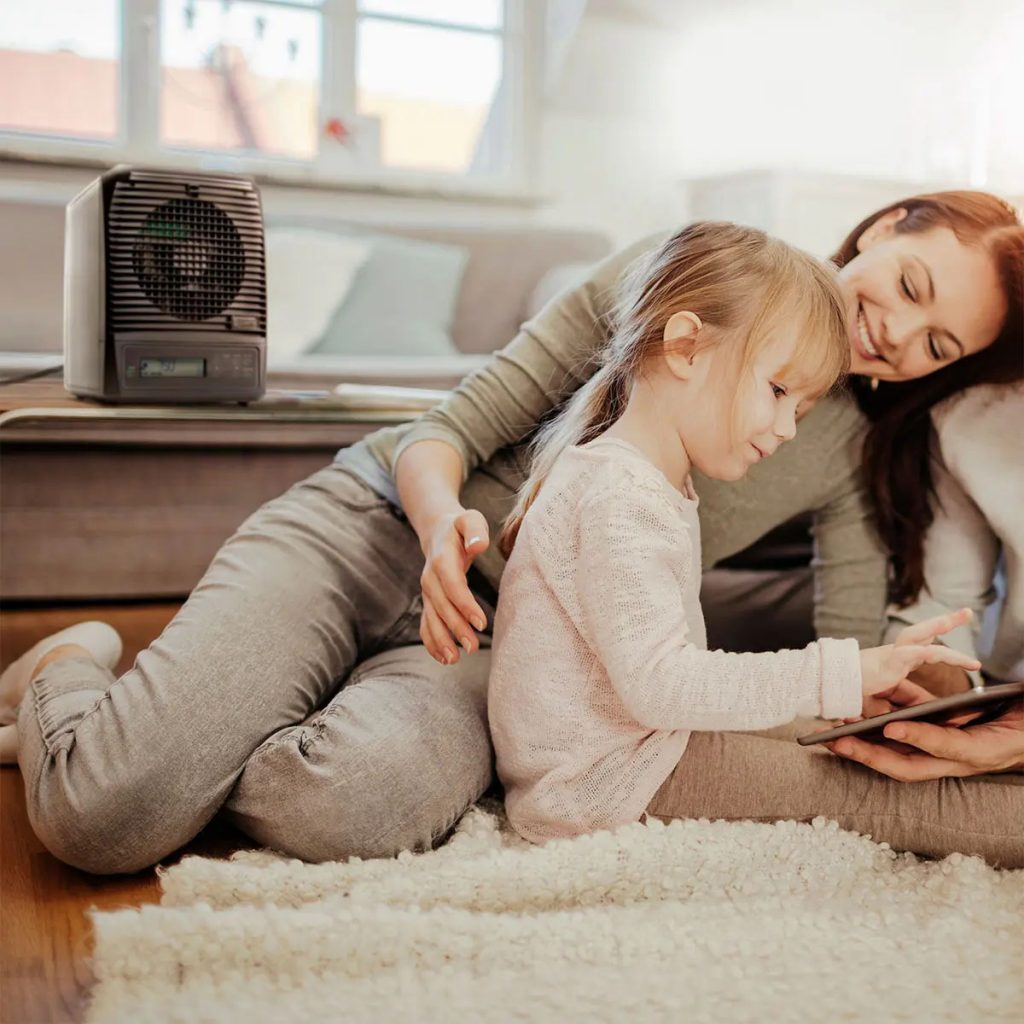 Easily remove indoor bacteria and viruses

Ideal for indoor places such as homes, offices, beauty salons, bars and restaurants, pureAir 3000 is the solution to indoor air quality in homes or offices up to 3,000 ft2.
pureAir 3000 helps to eliminate odors, smoke, pollen, dust, bacteria, mold, pet dander, viruses, volatile organic compounds (VOCs) and much more. Noticeable pollution is eliminated in as little as 15 minutes, and the most difficult pollution in as few as 24 hours.
pureAir 3000 destroys pollution from the air, embedded in walls, ceilings, floors, carpets, furniture, clothing, on countertops and other surfaces. These technologies help to sanitize everything in the house and reduces or eliminates all odors, including cigarette smoke, mildew, cooking odors, and more.
A small, sleek design makes it an elegant addition to any space, and its convenient remote control allows for simple purification level adjustment.

pureAir 3000 uses four advanced technologies

Photocatalytic Oxidation
The PCO technology in pureAir 3000 not only destroys biological contaminants caught inside the cell, it also produces a purifying plasma which breaks down odors, Volatile Organic Compounds (VOCs), mold, bacteria, and virus through molecular dissociation, resulting in trace carbon dioxide and water vapor.

Ionization
Needlepoint and pulse wave ionization create a continuous high level of ions in the treated space which cause particles in the air to become attracted to each other like magnets. As particle clump together, they are too heavy to remain suspended in the air and fall to the floor or are caught in filtration.

Activated Oxygen
Activated Oxygen, or Ozone, is a naturally occurring oxidizer found everywhere outdoors, with higher levels after thunderstorm, it breaks down chemicals and microbials and is especially adept at eliminating offensive odors, pureAir 3000's oxidation generator is completely scalable and when adjusted based upon the area being purified generates an effective yet low level of ozone considered safe and natural.

Electro-Static Filtration
An advanced electro-static filter is included with pureAir 3000 to help keep the purifier clean as well as filter out particles clumped together through ionization. Unlike expensive HEPA filters, the electro-static filter is washable and can be used for the lifetime of the pureAir 3000.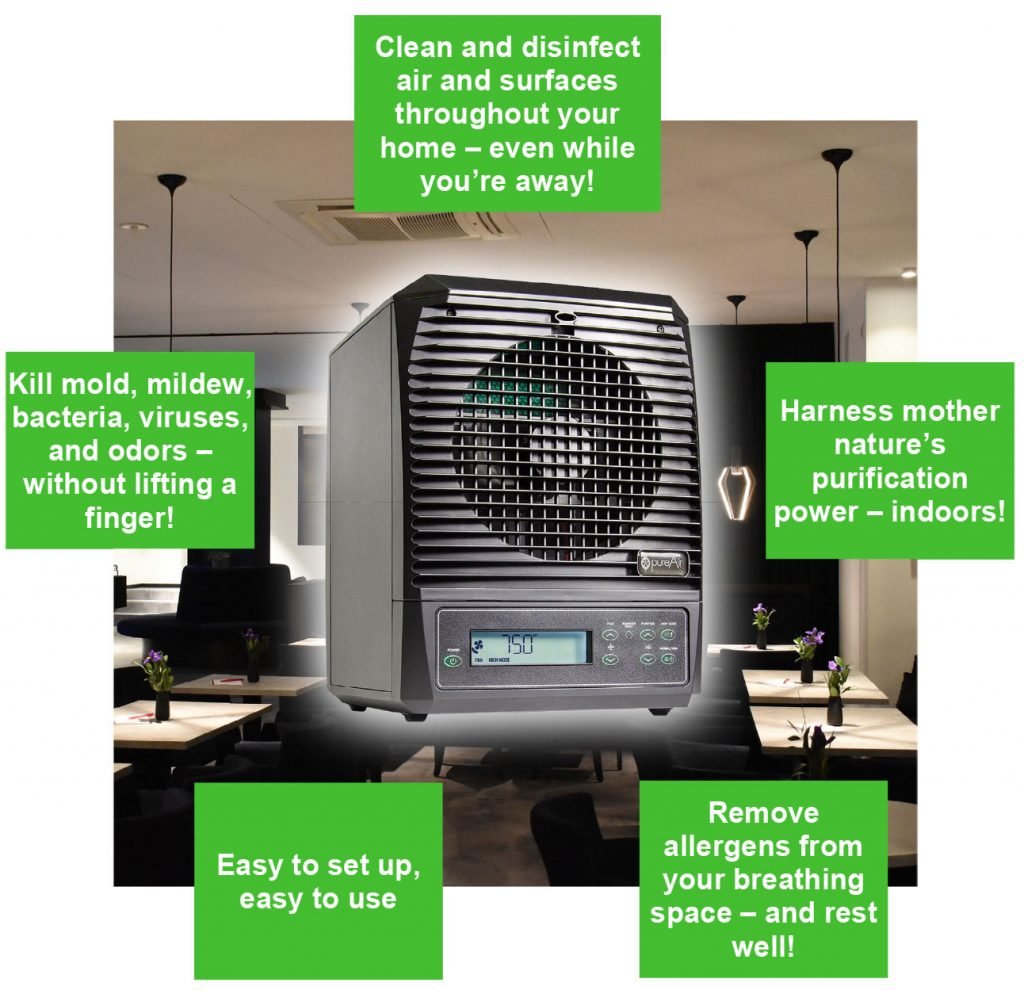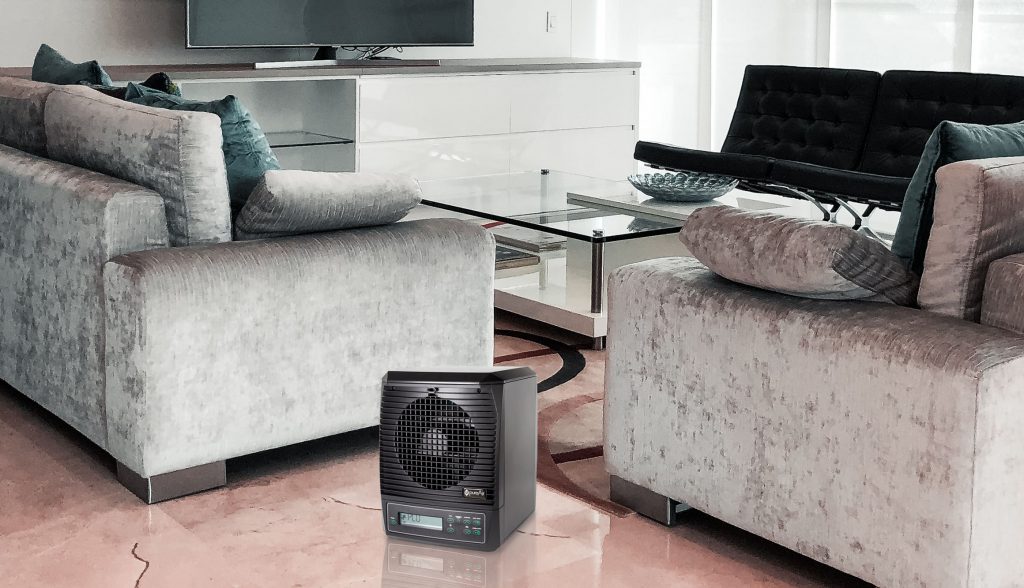 Features & Specifications
Effective Area: Up to 3,000 ft2

Remote Control: Controls Power, Purification Level, Fan Speed, Away Mode, Silent Mode

Warranty: 1 Year Manufacturer's Warranty
Power
Power Input: 100 – 240VAC | 50/60Hz | 2.5A

Power Usage: 22W (Normal) | 38W (High)
Unit
Unit Dimensions: H311 x W229 x D280mm

Weight: 4.10kg
Packaging
UPC: 855819003274

Dimensions: H420 x W340 x D295mm

Weight: 6.35kg
Made in China
Order pureAir 3000 Whole Home Purifier