Pre-order PROSHIELD® Soft FR Loop Mask
Fluid Resistant, Level 2, Submicron Filtration, Loop Mask
HK$68/box (50 pcs/pack, min. order 5 boxes)
Fluid resistant (120mmHg)

Submicron filtration

Ultra-soft comfortable hypoallergenic inner liner suitable for sensitive skin

Triple pleated design for easy breathing

Soft and durable ear loops

Complies with AS4381: 2015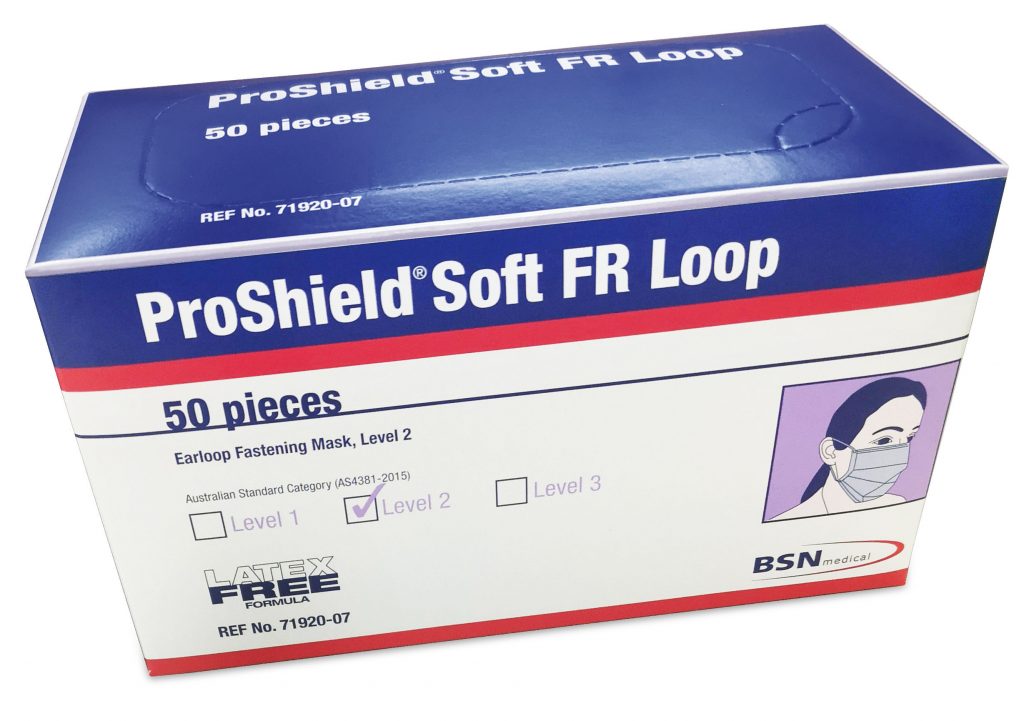 Suitable for clinicians working in general care or allied health environments who prefer easy and convenient mask donning, for use in emergency departments, dentistry, changing dressings on small wounds or healing wounds and where minimal blood droplet exposure may possible occur (e.g. endoscopy procedures).
Made in Japan

International well-known brand in medical sector

Use in HA/Private Hospitals and Clinics

Australian Standard Level 2 Protection

Latex-free
LEVEL 2 PROTECTION*
Level 2 barrier medical face mask materials are evaluated for resistance to penetration by synthetic blood at the medium velocity of 120mmHg, bacterial filtration efficiency and differential pressure:

With a Bacterial Filtration Efficiency (BFE) of >98% for media greater than 3 microns this mask provides superior protection from potential infection.
The super high Particulate Filtration Efficiency (PFE) material filters >98% of particles greater than 0.1 microns. When securely fitted, the mask helps to provide an effective barrier to particulate matter.

The Fluid Resistant qualities of the mask provide protection against fluid (120mmHg/16.0kPa) strikethrough.

The mask design provides excellent breathability and a low delta P (≤1.5) ensuring coolness and comfort even when worn for an extended period.(The delta P of a mask is generally 2 to 3 mm H2O. If it is higher than 3 mm H2O, it will be uncomfortable to wear for a long time)
*AS4381:2015 Single-use face masks for use in healthcare
Comparison of the Standard in Face Masks
Testing was performed in compliance with US FDA good manufacturing practice (GMP) regulations 21 CFR parts 210, 211 and 820.
HK$68/box (50 pcs/pack, min. order 5 boxes)
(Enjoy free delivery for orders of 50 boxes or above; for orders below 50 boxes, delivery cost will be charged to the customer by S.F. Express on delivery.)